Your partner in temporary housing solutions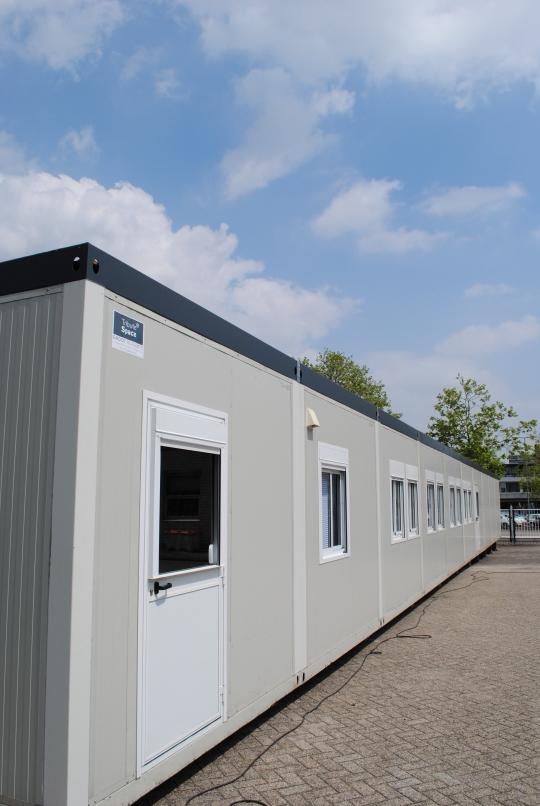 Rent and sale of mobile units
Tribute Space offers a complete range of temporary housing solutions for various market segments. From construction sites and office units to fully furnished emergency shops and school buildings. Whether it's buying, renting or leasing, we take care of the space you need.
Standard and customized housing solutions
A large number of new and used units are available directly from stock. You have our choice of new, standard units or young occasions. Thanks to our factory in Italy, we also design and deliver customized mobile cabins. Whatever your question may be, we'll take care of it. Fast, professional and of course according to strict quality standards. And since May 2015 with a CE mark.
With our online configutor you can build your dream design for your office, temporary house, storage and so on.
Are you happy with your design? Please enter your contact details to receive our offer via E-mail.
The configurator supports the design of units up to 12x3 m. Are you looking for anything bigger or a complete building? Please feel free to contact us.
Directly to the configurator click here.
Do you want more info about how to use the configurator? Please watch the video.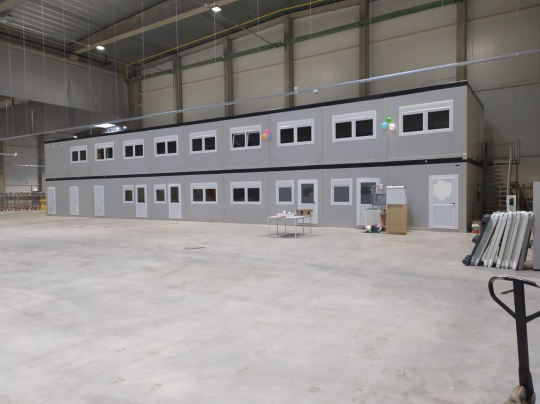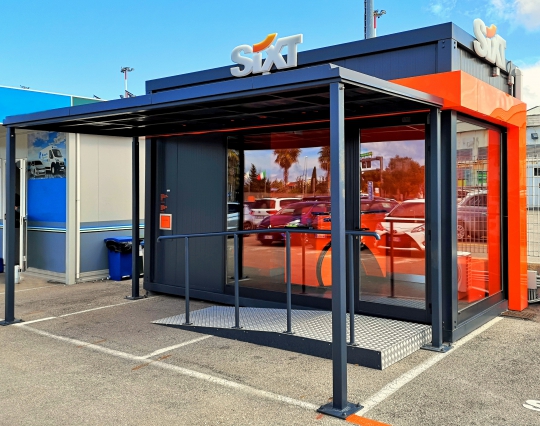 The attached photo shows that not all cabins have to be light gray. For Sixt AG, one of the largest car rental and leasing companies in Europe, we have placed a representative rental office at Cagliari Airport.
Bread, bread and more bread...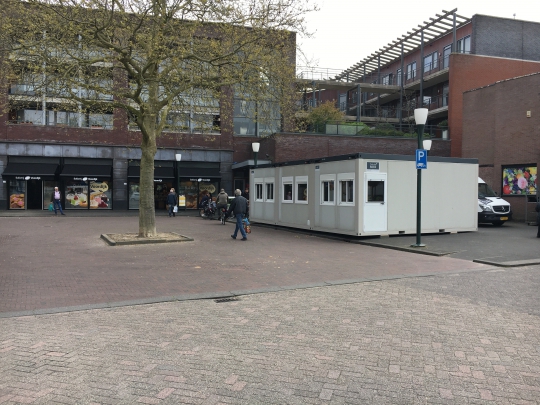 With about 54m².
During this renovation, Bakkerij Voordijk was also helped with one of our emergency shops.
The emergency store will be deployed while the existing store is undergoing a metamorphosis.
For a period of about two weeks, the emergency shop will serve as a temporary bakery shop.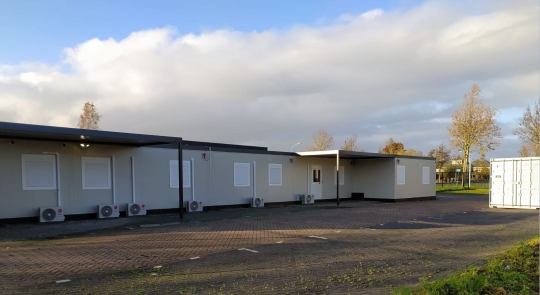 Once again allowed to realize a beautiful building.
Our production facility is able to produce and install a complete building within 6 weeks. Recently this building may be placed within one day and completely modular in construction.
This property has been sold and can be moved at any time. All materials are reusable. That means the properties and benefits of real estate, but without the risks and with optimal durability and flexibility.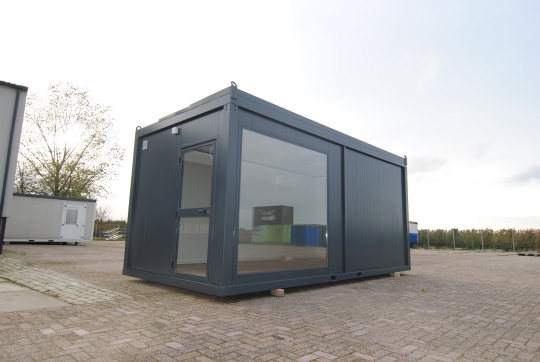 Appearance! That is what our customer wanted and where we arrived at in close consultation.
This accommodation has a size of 6x3m. and in addition to a tropical roof, it is also equipped with a climate system which, in addition to heating, also provides cooling in the hot summers, so optimal comfort.
The large glass front contributes to a pleasant working environment.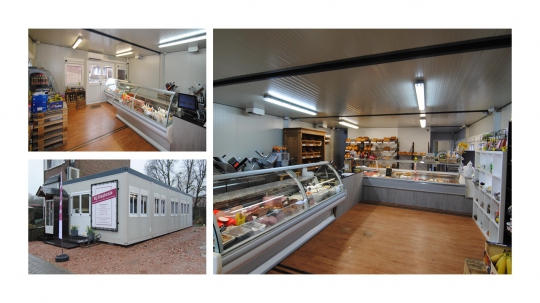 Bread on the shelf, literally and figuratively. Last month, a splendid emergency store was placed in Nijlen (BE).
The shop consists of 5 attached Rental cabins with a total surface of 90m² and will serve as a temporary bakery for a period of 15 months.
In addition to this emergency store, we have also been able to place an emergency store in The Hague in recent months and in the coming month we will surprise you again with the installation of an emergency store, which covers 54m².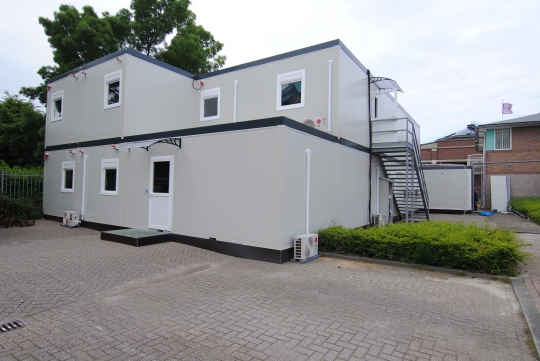 Recently we have delivered a building with a floor area of approximately 576m². This building is included in our rental fleet.
The building is supplied with LED lighting and motion detectors.
Furthermore, the rental units are equipped with a twist-lock system, this system saves time during our logistic process; tying the load is no longer necessary.
This housing solution is produced by our factory under ISO and CE.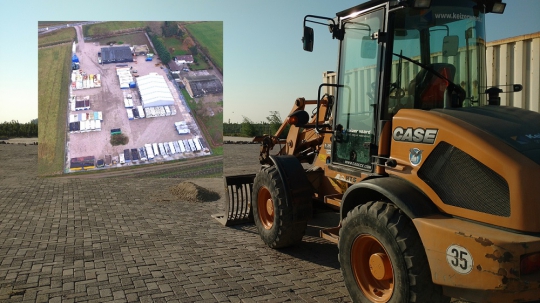 At the moment, in addition to fulfilling your housing needs, we are also busy with our own.
We are moving into a new location. This new location will double our storage capacity, the total terrain covers 12,900 m².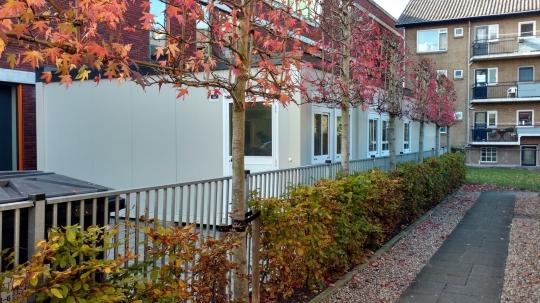 The extreme growth of a primary school forced the installation of one emergency classroom. We were able to achieve this through the placement of four rental accommodations.
The accommodation is equipped with a sanitary group, cloakroom and a classroom.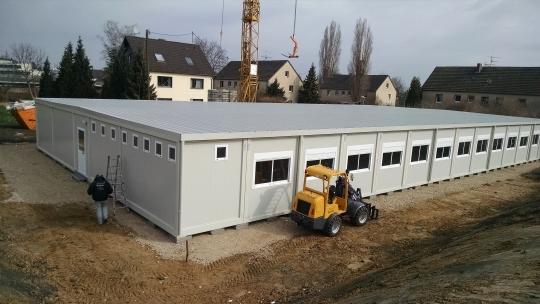 Recently we have delivered some housing facilities in Hürth, Germany.Â
The cooperation with our sister company in Italy (Precamp) has resulted in a flawless project. In total we have provided 8 residential buildings. In addition to ISO, Precamp has a CE certification.
New and used cabins for rent and sale